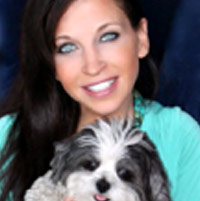 Wendy Diamond is a Social Entrepreneur, Humanitarian, Endangered Animal and Rescue Advocate, World's Premiere Pet Lifestyle expert, Best-Selling Author, and TV Personality. Diamond is heralded and recognized as a pioneer in the animal world; dubbed "Martha Stewart of the Milk Bone Dish" by The New Yorker, and crowned the "Canine Queen" by Forbes.
Wendy continues to extend her wealth of animal and entrepreneurial knowledge, continually blazing the trail in the animal kingdom. She serves as a keynote speaker on topics such as animal rescue, endangered animals, pet lifestyle and designing your own passionate career at universities and conferences around the world from Harvard University to the United Nations. In 2014, Diamond joined the Animal Welfare Leadership Council of the Classy Awards. In addition to her work for animal rescue and welfare, she's an endangered species advocate, Grand Marshal of Barkus, Chairwoman of the Katrina Pet Memorial (Lucky was the Chair Dog)  and even authored two Best Selling Cookbooks with Madonna, Aerosmith and other artists… A Musical Feast and All Star Feast. She also serves on the Board of Advisors for the United Nations Millennium Development Goal Achievers, Grey Muzzle Foundation, Social Innovation Forum/United Nations and World Entrepreneurship Day.
On November 19th, 2014 Wendy launched Women's Entrepreneurship Day (WED) at the United Nations in 144 countries.
Episode Description:
In this episode, we featured Wendy Diamond, who shared with us how she has pursued both advocacy for animals, as well as empowerment for women and women entrepreneurs. Wendy begins by describing her experiences as an entrepreneur herself and some of the challenges that women entrepreneurs face. She describes why she wished to create Women's Entrepreneurship Day and shared some of the attributes of this day that make it so unique. Wendy also explains how she became passionate about animal advocacy, and how she has helped bring awareness towards many animal rights issues through effective and creative publications and events.