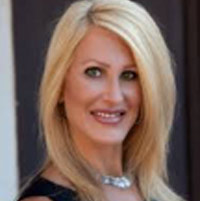 Sherry Gideons is a mother of four, grandmother and fun loving force to be reckoned with. Sherry has a unique and powerful ability to address life issues from an authentic and comprehensive level. Sherry always says, that for each and every one of us, the path to this knowledge is different. For anyone who truly wants it, it is there. We are all on a journey. As President and CEO of Sherry Gideons International is dedicated to the evolution of humanity by helping people of all ages discover their own greatness, and inspiring them to live extraordinary lives through the study and application of self mastery principals and human dynamics. Sherry speaks to worldwide audiences inspiring them with her story of survival and triumph. Sherry is a professional fulltime empowerment and mindset breakthrough specialist, is certified and licensed with Center for Spiritual Living as a RScP Spiritual Practitioner, and is a certified Life Mastery Institute consultant.
She is the founder of Expanded Woman Global Community as well as host and creator of the Whole Life Living Radio Network. Her published works include, Goddess of Transformation, Sowing Seeds of Change, and Freedom planner as well as magazine articles on health and wellness, and body image awareness.
Episode Details:
In this episode, we feature Sherry Gideons of Sherry Gideons International. Sherry explains what her difficult journey to self-discovery was like, and how she was able to turn hardship and struggle into success and meaning. Sherry tells us more about the Expanded Woman Global Community, and how women can benefit from learning to have a healthy mindset. Sherry also shares how anyone can learn to live a better life through her work in the Whole Life Living Radio Network and through her many published works.