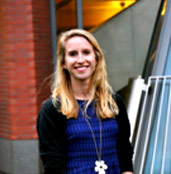 Anna attended the University of Pennsylvania from 2011-2015. She was in the Wharton School, where she received a Bachelors of Science in Economics, with concentrations in Finance & Management, as well as a minor in Hispanic Studies. At Penn, Anna was most involved in Wharton Women, and she also worked as Teaching Assistant for Management 100 for three years. Management 100 is a required class for all Wharton freshmen that focuses on leadership and communication in groups, so every semester she worked with 10 Wharton freshmen as they completed a project for a local non-profit.
Anna did consulting work at the Wharton Small Business Development Center (SBDC) during her sophomore year. At the SBDC, undergrads and MBAs do consulting work for local small businesses.
Anna was on the executive board of Wharton Women for three school years. In 2012, she was the VP of Operations, so she managed more technical, logistical aspects of the organization, including sending out our weekly emails and booking rooms for events. In 2013, Anna was the VP of Technology, and during this year, she completely re-did the Wharton Women website. And, most recently, in 2015, Anna was the VP of University Relations. In this role, she was responsible for managing the mentorship program with the Wharton MBAs, as well as planning the 2015 Wharton Women Business Conference (WWBC). WWBC is a day-long conference that brings two keynote speakers and four panelists to a venue near Penn's campus.
Anna is currently most excited that her career is about to begin! She will be working at Bain & Company in New York City starting in September doing management consulting. Anna will be working with clients in various different industries, and is eager to continue learning about different types of businesses in this first step of her career.
Episode Details:
In this episode, we featured Anna Reighart, a recent graduate of the University of Pennsylvania. Anna shares her experience as an undergraduate student and offers advice for incoming and current college students. We also talk about Anna's past involvement within Wharton Women and about the importance of seeking out mentors. We wrap up our conversation as Anna discusses her future career plans and goals.